See on Scoop.it – Outdoor Ethics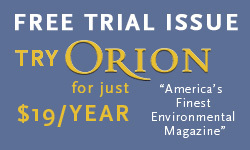 I appreciate how this author points out the importance if free play. Many of the points in this article reminds me of my Leave No Trace master trainer's comments about the importance of balancing stewardship with exploration.
Much of environmental education has become pedantic and rule-bound. Could it actually be turning kids away from nature? Web extra: author interview.
Key points of this article:
First, environmental educators need to allow children to be "untutored savages" for a while.
Second, environmental educators need to focus way more on hands-on experience with children and way less on systematic knowledge.
"Nancy Wells and Kristi Lekies from Cornell University took on this question, and described their findings in "Nature and the Life Course: Pathways from Childhood Nature Experiences to Adult Environmentalism." They found that wild nature experience in childhood correlates with adult environmental values and behavior. Domesticated nature experience correlates with adult environmental values but not so much with behavior. Perhaps most surprising, the study found that, "participation in environmental education programs (in school, in Scouts, at camp, or in community environmental improvement programs) was not a significant predictor of either environmental attitudes or behaviors."
Notable quotes from this article:
"We told you about programs, Daddy. Too many rules. It would've been fun if we could have just played all together in the meadow."
"Puzzling statement. You're thinking: environmental education is supposed to connect children with nature, to get them started on a lifetime of loving and wanting to protect the natural world. Yes—that's what is supposed to happen. But somewhere along the way, much of environmental education lost its magic, its "wildly, gladly rejoicing together."
"Much of environmental education today has taken on a museum mentality, where nature is a composed exhibit on the other side of the glass. Children can look at it and study it, but they can't do anything with it. The message is: Nature is fragile. Look, but don't touch. Ironically, this "take only photographs, leave only footprints" mindset crops up in the policies and programs of many organizations trying to preserve the natural world and cultivate children's relationships to it."
"The imaginative, constructive practice of fort building actually fosters the sense of connectedness that land trusts want to cultivate in young people. It's an instinctive drive to make a home in the world away from the home your parents provided you. When you make a fort, or den, or hideout, it creates a connection to the land, nurturing an affinity for that place. Discouraging these natural tendencies of childhood could actually lead to resentment of, and a lack of commitment to, the land trust's agenda of land preservation."
"Between the ages of six and twelve, children have an innate desire to explore the woods, build forts, make potions from wild berries, dig to China, and each of these activities is an organic, natural way for them to develop environmental values and behaviors."
"The "look but don't touch" approach cuts kids off from nature, teaching them that nature is boring and fraught with danger. Inadvertently, these messages send children back inside to the dynamic interactivity of computer games. Could it be that our fear of litigation and our puritanical concerns for protecting each and every blade of grass are hampering the development of the very stewardship values and behaviors that we environmental educators all say we're trying to foster?"
"John Muir helped create the national park system, and his writing has fostered environmental values and behaviors in countless millions of people. My contention is that John Muir's preservationist instincts grew in part out of these childhood experiences, (we made guns out of gas-pipe, mounted them on sticks of any shape, clubbed our pennies together for powder, gleaned pieces of lead here and there and cut them into slugs, and, while one aimed, another applied a match to the touch-hole. With these awful weapons we wandered along the beach) which probably contributed more to his commitment to the natural world than learning the difference between sedimentary, metamorphic, and igneous rocks in the mandated third grade curriculum."
As John Burroughs once said, "Knowledge without love will not stick. But if love comes first, knowledge is sure to follow." It's our responsibility as parents and teachers to make sure that love comes first.
See on www.orionmagazine.org