See on Scoop.it – NogginQuest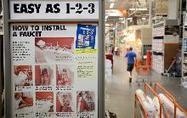 The waning of manufacturing in the economy may be resulting in a dilution of craftsmanship – long a vital ingredient in the American self-image as a can-do people.
"In an earlier generation, we lost our connection to the land, and now we are losing our connection to the machinery we depend on," says Michael Hout, a sociologist at the University of California, Berkeley.
Sounds like now would be a good time to help our country and personal piggy banks by learning a skill.
What sort of new skill interests you?
See on mobile.nytimes.com